The Train Like a Champ Program
In this program, we are dedicated to
developing a healthy lifestyle and
championship mindset.
With the boxing discipline at its core
AOBC (Ashira Oure Boxing Club) oers a wide range of services, including strength and conditioning, boxing lessons, circuit training, co-operate classes, group classes, health checks and nutrition advice.
AOBC can also provide injury services, as we are working closely together with the physiotherapists at Well-Come Fitness and Spa. This means that we can provide innovative management plans, including manual therapy, clinical rehabilitation and specialized treatment – always put in context to the overall physical health.
We believe that in oering this full-service holistic approach, our clients receive the mindset of a comprehensive and unrivaled champion, in their goal for a healthy lifestyle.
Learning how to train like a Champ…and, therefore, gain success in a healthy lifestyle – and creating a Championship mindset.
The program will run for 8 weeks and will will help you burn fat and build muscles!
Boxing History
The earliest evidence of boxing dates back to Egypt around 3000 BC.
The sport was introduced to the ancient Olympic Games by the Greeks, in the late 7th century BC, where soft leather thongs were used to bind boxers hands and forearms for protection.
On January 6th, 1681, the first recorded boxing match took place in Britain when Christopher Monck (2nd Duke of Albemarle, and later Lieutenant Governor of Jamaica) engineered a bout between his butler and his butcher, with the latter winning the prize.
Early fighting had no written rules.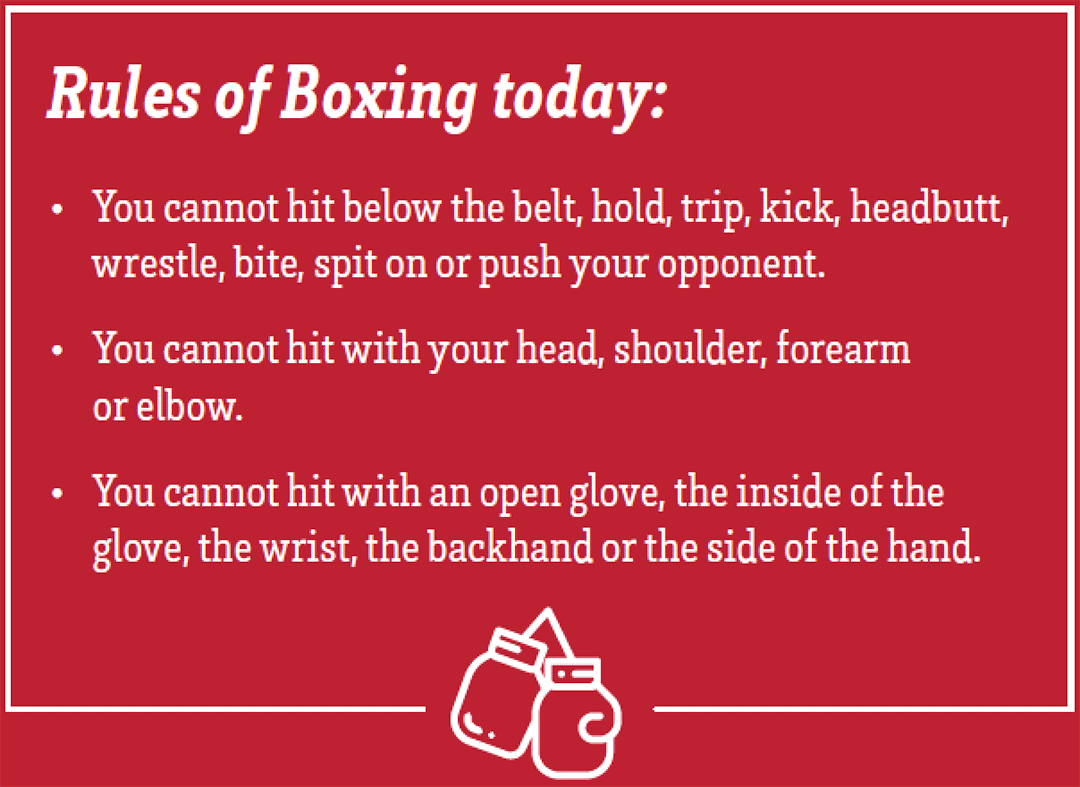 The First Million-Dollar Gate
The Dempsey–Carpentier contest took place on July 2nd, 1921, at Boyle's Thirty Acres in Jersey City, New Jersey. It generated the first milliondollar gate in boxing history; a crowd of 91,000 watched the fight. Though it was deemed "the Fight of the Century", experts anticipated a one-sided win for Dempsey. It was also the first heavyweight championship fight, where women attended in great numbers.
Floyd "Money" Mayweather (New Generation Champion) crowned thegreatest boxer of all time. 'MONEY' held multiple world titles in five weight classes, and is not only regarded as one of the greatest defensive boxers of all times, but the most rounded – coming from nothing, building an empire both financially and athletically. Forbes listed the champion as the highest-earning athlete in the world from 2012 to 2015 where the sport has become one of the hardest and most rewarding sports. Ashira spared and trained Floyd Maywether for few fights.
Ashira Oure is a 2 x Champion of the World, and 2 x World title challenger. Ashira competed in the 1996 Olympic Games in Atlanta, Georgia. He is an African Champion, a Commonwealth Champion and 5 x Kenya National Champion. Ashira Oure has a solid boxing background, his uncle Owiso Oure battled former Ugandan president Idi Amin while he was still in the military. Ashira Oure has 3 Olympians in his family: Cherles Owiso, 1984, Los Angeles, USA. Joseph Akhasamba, 1988, Seoul, South Korea – and Ashira Oure, 1996, Atlanta, USA. Same Olympic like Floyd Mayweather, Antonio Tarver, Valmir Klitschko.
Ashira Oure has been training in all the outstanding gyms in the world, such as the Peacock Boxing gym in London, Gleasons gym in Brooklyn – New York, Wild card Gym Los Angeles, Muhammed Ali's gym on 5th street in Miami and Mayweathers Gym in Las Vegas, Nevada.

Company Corner
AOBTL Companies priotirize Health – Training and nutrition. Life longevity, growth and quality life. Body type training at Ashira Oure Boxing training Lab.
Champion nutrition mindset
As Champion you need to know why nutrient density is more important than caloric content. An advantage of counting macros (macros are the nutrients you need in large amounts, as they provide your body with the calories it needs to function. You probably know them better as carbohydrate, protein, and fat) is that it ensures some of the essential nutrients to be incorporated into your diet, instead of focusing solely on calories. Counting calories takes no account of nutrients. That's why we need to stop the calorie-counting and focus on nutrients instead. You'll likely enjoy more satiety, less inflammation and better recovery.
The 11 most Nutrient-Dense foods on the planet:
1 Salmon – not all fish are created equal
2 Kale – of all the healthy leafy greens, kale is the king
3 Seaweed – the sea has more than just fish
4 Garlic – really is an amazing ingredient
5 Shellfish – many sea animals are high in nutrients,
but shellfish may be among the most nutritious of all
6 Potatoes – are rich in vitamins, minerals and antioxidants
7 Liver – is one of the most nutritionally dense foods
on the planet
8 Sardines – are very high in protein
9 Dark chocolate – is one of the best sources of
antioxidants on the planet
10 Egg Yorks – contains lutein and zeaxanthin
– that support eye and brain health
11 Blueberries – an antioxidant SUPERFOOD
DIETARY PLAN
Nutrition and Training Recommendations
There is a saying in boxing: the left jab takes you around the world, the right punch takes you around the block. Let's find out.
Find your body type.
There are three body types that are broadly characterized as follows:
Endomorph – larger in appearance with a heavier fat accumulation and little muscle definition, difficulty to lose weight despite what has been tried
Mesomorph – naturally muscular and can build them while staying lean
Ectomorph – has difficulty putting on weight, naturally lanky and lean
Which one are you? Take the above test and find out.
The focus should be on your lifestyle, which means choosing the right exercises and the right nutrition for your body type. It's the lifestyle to stay sharp 365 days a year.
The practice will be to post a plate that contains the same values throughout the week, month, season and year. With a twist you can switch your carbs, getting carbs from either vegetables, fruits or whole grains. Understanding your supplements, consistency and keeping them exciting. The same goes with your training program where the exercises you chose should be effective and consistent – and remember to change them every second to third week in order to keep the exercises exiting but also to give them time to work.
1. ENDOMORPH
People with an endomorph body type may gain weight easier and take longer to lose it because they tend to have a slow metabolism, low muscle mass, and a high amount of body fat. However, endomorphs can pack on muscle easy. The bad news is this body type is prone to excessive accumulation of body fat, especially in the form of a large "spare tire" in the midsection.
Endomorph diet plans usually focus on avoiding refined carbohydrates and eating a mix of healthy fat, proteins, and carbohydrates from vegetables, nuts, fruits, and whole-grain nutrition. 20% carbs, 35% healthy fat and 45% protein.
Endomorph should focus on building muscle by lifting moderate to heavy weights, but also to incorporate as much cardio as possible. HIIT Cardio Training is a great addition to the workout. Training base line: 3 days strength training for 35–45 minutes a week. Aim to complete more work in less time (intensity). Short rest periods between the sets, 30-60 sec. rest. Keep a high heart rate. Incorporate compound movement to burn more calories. Moderate to heavy weight, 8-15reps. 3 days cardio for 45–60 minutes a weekwhere at least one of the cardio trainings should be Hiit training. 1 day for recovery (rest day).
This approach will help trim fat, reduce the waistline, and improve insulin resistance.
Here are the foods you're advised to eat on an endomorph diet.
Meat and Fish
Chicken
Turkey
Salmon
Cod
Fruit and vegetables
Berries
Apples
Pears
Asparagus
Zucchini
Tomatoes
Onions
Greens (spinach, kale, romaine)
Nuts and seeds
Nut and seed butter
Almonds
Pistachios
Sunflower seeds
Pumpkin seeds
Grains and starchy vegetables
Sweet potatoes
Squash
Quinoa
Brown rice
Beans
Oats
A 7-Day sample meal plan for the Endomorph Body Type
DAY 1
Breakfast 2 scrambled eggs plus 1 egg white and spinach
Snack Sunflower seeds and a piece of fruit
Lunch Olive oil–massaged kale salad topped with cucumbers, bell peppers, and salmon
Snack Deli meat wrapped around asparagus spears
Dinner Grilled chicken breast over zucchini noodles and tomato sauce
DAY 2
Breakfast Cottage cheese with slivered almonds and cinnamon
Snack Sliced veggies and hummus
Lunch Stir-fry made with chicken and peppers over brown rice
Snack Sliced apple with peanut butter
Dinner Turkey tacos wrapped in lettuce and topped with a slice of avocado
DAY 3
Breakfast Egg frittata made with tomatoes, onions, and spinach
Snack Protein shake
Lunch Grilled chicken salad with garbanzo beans, tomatoes, and tzatziki sauce
Snack Hummus and sliced veggies (bell pepper, celery)
Dinner White fish drizzled in olive oil, roasted broccoli and cauliflower
DAY 4
Breakfast Smoothie made with Greek yogurt, berries, and almond milk
Snack Sliced veggies and hummus
Lunch Open-faced turkey, veggie, and avocado sandwich on whole-wheat toast
Snack Pistachios and cubed cantaloupe
Dinner Sliced steak stir-fry over cauliflower rice
DAY 5
Breakfast Omelet made with peppers and spinach, topped with avocado slices
Snack Protein bar
Lunch Quinoa mixed with chopped veggies and cubed chicken breast, tossed with vinaigrette
Snack Carrots dipped in peanut butter
Dinner Salmon, steamed broccoli, sautéed mushrooms
DAY 6
Breakfast 2 hard-boiled eggs with blueberries
Snack Greek yogurt with sliced almonds
Lunch Mediterranean lentil salad with sun-dried tomatoes, kalamata olives, and chopped raw veggies
Snack Protein shake
Dinner Veggie and bean soup with a grilled chicken breast
DAY 7
Breakfast Greek yogurt layered with apples, cinnamon, and walnuts
Snack Hard-boiled egg and sliced avocado
Lunch Sweet potato stuffed with shredded chicken, drizzled with low-sugar barbecue sauce
Snack Hummus and veggies
Dinner Shrimp and veggie kabobs with cauliflower rice
2. MESOMORPH
A person who is a mesomorph is said to have more of an athletic body. Their body structure is more rectangular or boxy. Mesomorphs seem to burn fat and put on muscle relatively easy.
Mesomorphs respond best when their plates are divided into thirds: 35% protein, 35% carbs, vegetables (or fruit) and 30% healthy fat, whole grain.
Training base line: 3 days cardio training for 35- 45 minutes a week. One of the cardio trainings should be Hiit Training Cardio. High intensity will be good for fat burning. 3 days weight training a week for 30-60 minutes. 1 day for recovery (rest day). Protein supplement after training will be important for muscle building.
With greater muscle mass, mesomorphs enjoy a speedy metabolism and ability to process carbohydrates well, especially if they're also performing cardio or doing weights in the gym. For that reason, experts say mesomorphs thrive on a balanced diet.
Here are the foods you're advised to eat on an endomorph diet.
Meat and Fish
Fish (salmon, tuna)
Chicken
Lean steak
Turkey
Eggs
Protein shake
Fruit and vegetables
Berries
Apples
Pears
Oranges
Avocado
Cauliflower
Green beans
Broccoli
Asparagus
Brussels sprouts
Nuts and seeds
Nut and seed butter
Almonds
Cashews
Pistachios
Sunflower seeds
Pumpkin seeds
Grains and starchy vegetables
Sweet potatoes
Lentils
Quinoa
Brown rice
Beans
A 7-Day sample meal plan for the Mesomorph Body Type
DAY 1
Breakfast Greek yogurt parfait made with pumpkin, cinnamon, pecans, and raisins
Snack Two hard-boiled eggs and strawberries
Lunch Large salad with chopped veggies, sweet potato chunks, avocado, and vinaigrette
Snack Hummus and bell pepper sticks
Dinner Chicken and vegetable stir-fry over brown rice with crushed peanuts
DAY 2
Breakfast Smoothie made with soy milk, peanut butter, banana, and spinach
Snack Cheese stick with an orange
Lunch Three-bean chili, side salad drizzled with vinaigrette, and a small whole-grain roll
Snack Veggies with a yogurt-based dip
Dinner Spaghetti squash noodles with tomato and ground turkey sauce
DAY 3
Breakfast Whole-grain toast with almond butter, hard-boiled egg
Snack Trail mix
Lunch Pizza made on a whole-grain tortilla, topped with veggies and chicken sausage
Snack Protein bar
Dinner Baked salmon, roasted broccoli, sweet potato with a tab of butter
DAY 4
Breakfast Cottage cheese with pineapple and crushed macadamia nuts
Snack Roasted chickpeas and an orange
Lunch Turkey chili spooned into a sweet potato
Snack Packet of flavored tuna and celery sticks
Dinner Fajita lettuce wraps made with sliced steak, bell peppers, and onions, topped with avocado slices
DAY 5
Breakfast Greek yogurt with blueberries, toasted quinoa, and sunflower seeds
Snack Veggies and hummus
Lunch Whole grain wrap with chicken, sliced veggies (bell peppers, carrots) on the side
Snack Turkey rolled around sliced bell peppers and mustard
Dinner Tuna niçoise salad
DAY 6
Breakfast Avocado toast with peaches and a hard-boiled egg
Snack Chocolate protein shake
Lunch Chicken salad (made with a base of Greek yogurt) over greens
Snack Roasted lentils and an orange
Dinner Roasted chicken, sweet potatoes, and sautéed kale
DAY 7
Breakfast Slice of veggie frittata and a banana
Snack Hard Celery with peanut butter
Lunch Grilled salmon salad
Snack Protein bar
Dinner Quinoa bowl with chopped chicken, veggies, and a dollop of guacamole
3. ECTOMORPH
Generally, it is easier for Ectomorphs to lose weight. But it is very difficult for them to build muscle.
Your plate should be 20% fat, 30% protein and 50% carbs. Besides that, protein mass gainer supplement is recommended. You consume 700-1000 calories more than your body needs to maintain your current body weight. An ectomorph diet plan should focus on getting enough protein, including protein supplement.
The foundation of ectomorph training should aim to improve testosterone (your muscle building hormone) production, as this is likely to help you maximize your gains made from each and every workout. Research in the Journal of Strength and Conditioning found using compound multi-joint exercises (such as squats, deadlifts, bench presses) in a workout that lasts no more than 55 minutes is the best strategy for maximizing testosterone and muscle building. Aim for 3-4 times strength training weekly every second day. Short cardio 10-20 minutes two times weekly.
Here are some of the foods you are advised to eat on an ectomorph diet:
Meat and Fish
Chicken
Turkey
White fish (cod, mah-mahi)
Seafood (shrimp, scallops)
Eggs
Lean steak or beef
Dairy
Fat-free or low-fat yogurt or milk (keep to 1 serving a day)
Fruit and vegetables
Berries
Mango
Oranges
Apples
Pears
Banana
Cauliflower
Green beans
Broccoli
Asparagus
Brussels sprouts
Squash
Nuts and seeds
Almonds
Pistachios
Peanuts
Sunflower seeds
Pumpkin seeds
Grains and starchy vegetables
Whole-wheat bread
Old-fashioned or steel-cut oats
Sweet potatoes
Quinoa
Brown rice
Farro
Sample Ectomorph Meal Plan with focus on getting enough protein
Meal One Smoothie with oats, bran cereal, milk, egg whites, almond butter, natural peanut butter, natural honey, whey protein
Meal Two Grilled chicken, whole-wheat pasta, side of almonds
Meal Three Spinach leaves, lettuce, tomato, cucumber, olives, raisins, sunflower seeds, grilled chicken.
Meal Four, Pre-Workout Mixed fruit smoothie, wheat bread, sliced turkey, spinach, tomato
Meal Five, Post-Workout Mass gainer, natural peanut butter
Meal Six Steak, brown rice, almonds
Meal Seven Natural peanut butter, Greek yogurt, beef jerky, milk, serving of casein.
There is a saying in boxing: the left jab takes you around the world, the right punch takes you around the block.
This saying simply means consistency will give you better results than doing bigger things once in a while. In Boxing you use Jab to create openings, feel the distance, keep the opponent off balance, do damage and diminish opponent focus. This will work up to 80% of the fight. Big right hand is used most of the time to finish the show or do damage. Most of the time this will work around 20% .